The Lodge at Little Duck
Come and hunt for Central Barren Ground Caribou in Northern Manitoba, Canada, sometimes referred to as "the Serengeti of the North".
The Lodge at Little Duck is the only full service lodge on the annual migration route of the Qamanirjuaq Caribou Herd that is estimated at over 285,000 animals.
The Caribou season opens near the end of August and the hunt goes through the 4th week of September. Traditionally, The Lodge at Little Duck has stayed open one week longer than most lodges, and although the weather can be rather challenging, the hunting can be fantastic. These lucky hunters get to experience the last big "push" of animals coming through our area from their northern calving grounds.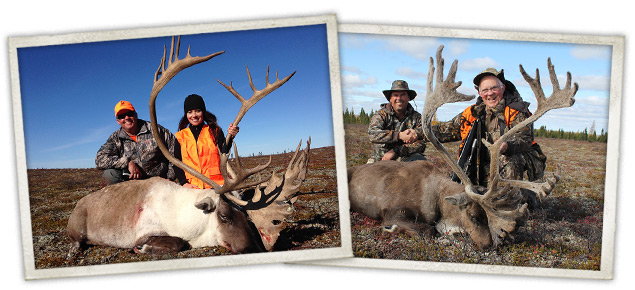 The Government of Manitoba on a yearly basis allocates only 250 Non Resident Caribou tags to outfitters in this vast area, and has only done so since 1995 making this a World Class hunt.
During the first part of the season, the bulls are still in velvet, but by the middle of September most of them have stripped and polished their antlers. As the month of September progresses, their manes become fuller and turn snow white. This is when the Caribou bulls are absolutely magnificent. Little Duck Lake, Neganilini Lake and the Wolverine River are all connected and offer hundreds of miles of shoreline for spotting caribou. Guides will take their hunters by boat from one area to the next in search of trophy bulls. From time to time, your guide will beach the boat and take a short hike onto higher ground to glass miles of tundra for caribou. The rolling tundra is not hard to negotiate, and combined with the use of boats, allows us to tailor a hunt to an individual's preferences or physical ability. We offer hunters the chance at harvesting a bull with rifle, bow or muzzleloader. Although our terrain is mainly tundra, it still offers excellent cover in terms of small stands of spruce, dwarf birch, outcroppings of rocks and natural ridges that enable a hunter to not only wait for the animals to come to them, but also lends to a "spot and stalk strategy" for that monster bull of a lifetime. Once your bull is down, your guide will field dress the animal and pack out the cape and head (with antlers) along with your boned out meat to the boat. Once at The Lodge, your cape will be bagged and frozen along with the meat. A durable plastic container will be provided to bring everything back to Thompson for your trip home. Hunters can either take their cape and antlers with them for mounting, or we can deliver your trophy to a reputable taxidermist in Winnipeg. The choice is yours. Hunters return at the end of the day to a hot shower in the privacy of their own electrically heated cabin. Before settling down to a great dinner in the main lodge,everyone shares in the stories of the day while snacking on tasty appetizers and enjoying ones favourite cocktail. Sometimes dinner is delayed a few minutes (or longer)as everyone shares their experiences of the day. One does not last too long after dessert has been served as the events and excitement of the day catches up to all, and sleep is not too far away. There is always time to catch up on e-mails with full internet service, and of course the use of satellite phone (if necessary).
All of our hunting packages are all-inclusive. Also included in your package is the opportunity to harvest an Arctic Wolf providing you have an unused (big game) license. The month of September is also a great time to fish for trophy northern pike, lake trout and arctic grayling. What a treat it is having a fresh Canadian Shorelunch on one of your hunting days.
All hunters, young and old seem to have a Caribou Hunting Trip on their bucket list. If this is the year that will see the Caribou hunt stroked off "your list", please don't hesitate to contact us to book your hunt. It would be our pleasure to help you plan a hunting trip of a lifetime
Book Your Trip Today!